Lip fillers are constantly in high demand, and the reason for this is that they provide the lips with an instant boost of beauty. Lip fillers are very popular among both the young and old since bigger lips are seen as a sign of youth and beauty.
However, the new trend of having a lip-filler injected by untrained experts such as salon therapists and the like is on the rise, presenting considerable danger and perhaps leading to life-altering problems.
1. Do you think you'd make a good candidate?
Any trained professional, such as a plastic surgeon or a dermatologist, will always begin by taking your basic medical history and checking out any conditions that would make a lip filler unsuitable. If you use aspirin or other anticoagulants, you may need to stop taking them before getting any lip cosmetic procedures.
2. What are lip fillers?
Lip fillers, also known as derma-fillers, are hyaluronic acid gels that come in a sterile syringe and are injected into the lips with small fine needles or a cannula. An enzyme called hyaluronidase, which is naturally present in our bodies, slowly dissolves HA gels in the body.
3. How much can I acquire in a single session?
Lip fillers are measured in millilitres (ml).
1 ml is sufficient for average-sized lips. If you want bigger lips, a top-up filler can be applied in 3-4 weeks.
4. Is the process painful?
Lip fillers are placed after numbing the lips with a numbing lotion that is left on for around half an hour. This reduces injection pain, and most patients are relaxed and pain-free throughout the treatment. For those who are scared of pain, we can numb the nerves in the lips with intraoral injections similar to those used in dental treatments. Overall, pain isn't a huge worry, but injection technique is important.
At Elite Plastic & Cosmetic Surgery Center, Dr. Manoj Bachhav takes the utmost care to make her patients comfortable.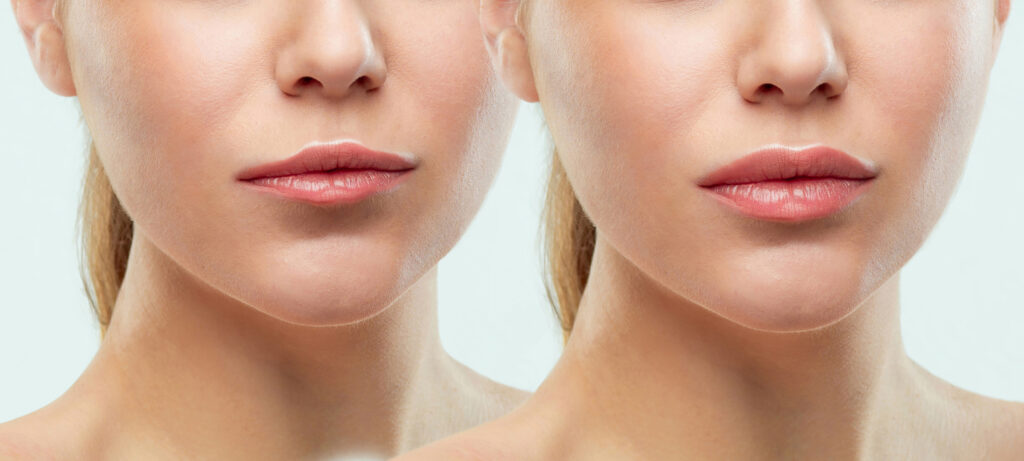 5. Will my lips swell when I have lip fillers?
It's natural to feel some swelling after getting lip fillers. The swelling will start to decrease in a few days. Using cold packs can help. A few anti-swelling medications may also be helpful.
6. How long will my result be effective?
The effects of lip fillers might last from 9 months to a year. Some people can have the fillers last longer if they are slow metabolizers. It may drop a bit faster if you exercise a lot, but most fillers (if we're talking about standard brands) last for at least 9 months to a year, if not longer.
At Elite Plastic & Cosmetic Surgery Center, which is one of the most renowned skins and plastic surgery clinics in Nashik, you can rest assured that we use the best brands only. Dr. Manoj Bachhav truly believes that the results start with the choice of the right patient and the right products.
7. How early after my lip fillers may I wear lipstick?
It's advised to avoid applying lipstick to your lips for at least 24 hours after your operation. On the day of your filling, stay away from very hot drinks. You're good to go with make-up after a day, but you wouldn't want to put anything else on your lips except gloss because they'd already look great with the filler!
8. What if I don't like the result or feel it is extreme?
That is highly unlikely to occur if you have it done by a reputable clinic and a trained practitioner. If you don't like your result or want it to be a little smaller, you can always choose dissolving injections. These are injections that dissolve the filler, which reduces the volume of the filler in 2 to 48 hours.
9. Can I get fillers in my lips to make them bigger like the celebrities?
If you want to add a large amount of volume to your lips, start slowly. Do the top-ups at regular intervals and don't try to do too much in one session.
10. What factors should I consider while selecting an injector?
It's easy to become confused when there are so many people selling the same thing. Make some research. Before making a decision, read reviews, schedule an appointment, and meet with the specialist. You can also use before and after photos to help you make your decision. The top practitioner will guide you through the process and explain all of the dangers and benefits to you.